REACH
Disclaimer
The information that Concawe provides on its Website represents opinions and is intended for guidance only. Whilst the information is provided in utmost good faith and has been based on the best information currently available, it is to be relied upon at the user's own risk. No representations or warranties are made with regards to its completeness or accuracy and no liability will be accepted for damages of any nature whatsoever resulting from the use of, or reliance on, the information.
Documents published by Concawe are based on interpretations of Regulation (EC) 1907/2006 (REACH Regulation) and Regulation (EC) 1272/2008 (CLP Regulation) as well as guidance provided by and information obtained from the European Chemicals Agency (ECHA).
Background
"Regulation (EC) No 1907/2006 of the European Parliament and of the Council of 18 December 2006 concerning the Registration, Evaluation, Authorisation and Restriction of Chemicals (REACH), establishing a European Chemicals Agency, amending Directive 1999/45/EC and repealing Council Regulation (EEC) No 793/93 and Commission Regulation (EC) No 1488/94 as well as Council Directive 76/769/EEC and Commission Directives 91/155/EEC, 93/67/EEC, 93/105/EC and 2000/21/EC", in short REACH, was published in the Official Journal of the European Union on 30 December 2006. A corrected version was published on 29 May 2007.
REACH entered into force on 1 June 2007. As a Regulation it became directly effective in the Member States. Since it has also been adopted by the European Economic Area (EEA) countries, Iceland, Norway and Liechtenstein, it is effective in these countries as well.
The REACH Regulation and its Annexes are supplemented by Technical Guidance Documents, which have been published by the European Chemical Agency (ECHA).
REACH replaced a number of regulations and directives concerning existing substances and the notification of new substances. Core elements of REACH are registration and authorisation. After certain deadlines set by the Regulation, substances, including petroleum substances, can no longer be manufactured and/or imported if they have not been registered. 30 November 2010 was the final deadline for the registration of phase-in substances manufactured or imported in quantities of 1.000 t/a or more at least once after 1 June 2007. This deadline also applied to substances that are carcinogenic, mutagenic or reprotoxic, and manufactured or imported in quantities reaching 1 t/a or more as well as to substances which may cause long-term adverse effects in the aquatic environment (R50/53) in accordance with Directive 67/548/EEC that are manufactured or imported in quantities reaching 100 t/a or more. In addition carcinogenic, mutagenic or reprotoxic substances, substances that are persistent, bioaccumulative and toxic or very persistent and bioaccumulative, and substances of "equivalent concern" may become subject to an authorisation procedure. However, some of these substances are exempted from authorisation; in the case of petroleum substances if they are used, for example, as fuel in fixed or mobile combustion units.
All phase-in substances had to be pre-registered with the European Chemical Agency by 1 December 2008.
For phase-in non-CMR substances manufactured and/or imported in lower quantities the remaining registration deadlines are as follows:
Manufactured and/or imported volume of
Non-phase-in substances need to be registered before they are manufactured or first imported into the EEA. Registrants will need to go through an inquiry process in accordance with Art. 26 of the REACH Regulation. Affected legal entities should also see the guidance on this process that ECHA has made available on its website.
Regulation (EC ) 1272/2008 on Classification, Labelling and Packaging, the so-called CLP Regulation entered into force on 20 January 2009, replacing Directive 67/548/EEC (Dangerous Substances Directive, the "DSD"), Directive 1999/45/EC (Dangerous Preparations Directive), and REACH Title XI (Classification & Labelling). All substances will have to be classified and labelled in accordance with the CLP Regulation by 30 November 2010 irrespective of their production or import volume. Registration Dossiers submitted before the registration deadline of 30 November 2010 will have to include classification in accordance with both the DSD and the CLP. Importers and manufacturers with volumes less than 1,000 t/a need to notify the ECHA of their classification in accordance with the CLP Regulation by 4 January 2011. Both DSD and CLP classifications will need to be provided on Safety Data Sheets during the transitional period ending in 2015.
Concawe Inventory of Petroleum Substances
Concawe has drawn up an inventory of petroleum substances, which can be downloaded here.
REACH Implementation by Concawe and its Member Companies
Building on its Risk Assessment Programme (see web page on Petroleum Products), Concawe had a programme in place under which it developed for its members not only those parts of REACH Registration Dossiers for which agreement amongst registrants is obligatory and which have to be submitted to the ECHA by a Lead Registrant, but also all other parts of the Registration Dossier which can be submitted jointly on a voluntary basis.
Petroleum substances (except sulfur and a few mono-constituent petroleum gases) are recognised by REACH as substances of "Unknown or Variable composition, Complex reaction products or Biological materials" ("UVCBs"). UVCBs are notoriously difficult to assess for their intrinsic properties and, where applicable, risks. Under its comprehensive Risk Assessment Programme on Petroleum Substances, Concawe developed methodologies that allow such assessments.
Note: The Concawe Risk Assessment Programme covers most, but not all petroleum substances listed in the Official Journal of the European Commission OJ L 84 of 5 April 1993. It does not, for example, cover steamcracker products, hydrocarbon solvents, lubricating greases, and re-refined base oils. It also does not cover substances which are exempt from Registration under Annex V of REACH, for example crude oil or petroleum coke.
There are other REACH related issues which are of particular relevance or unique for petroleum substances, for example:
Who in the supply chain is the importer under REACH and is therefore obliged to register an imported substance?
Which processes can be regarded as manufacturing of substances under REACH and therefore oblige the operator to register the manufactured substance(s)? Which processes constitute making a preparation?
How can imported petroleum substances be identified in terms of CAS Registry or EC number? How to avoid situations in which importers can no longer import a substance only because they have registered it under a different CAS/EC number?
Collaboration among registrants of petroleum substances
Concawe member companies decided to make best use of CONCAWE's comprehensive Risk Assessment Programme for Petroleum Substances in the preparation of the joint parts of REACH Registration Dossiers. They therefore also agreed to fully collaborate in the registration process and to exploit the possibility of joint submission of joint parts of the Registration Dossier to the maximum possible under the REACH Regulation. This includes the preparation of Chemical Safety Reports.
The REACH Regulation foresees collaboration of all registrants of the same substance. As a minimum:
(robust) study summaries, classification and labelling and testing proposals have to be submitted jointly through a Lead Registrant.
certain substance data have to be shared among all registrants of the same substance.
REACH allows this collaboration to be extended. Concawe member companies have agreed to invite non-members to participate in the joint submission of the common parts of the Registration Dossier to the maximum possible extent under the REACH Regulation.
Concawe has therefore offered the joint parts of the Registration Dossiers, including the Chemical Safety Reports, under a suitable contractual framework, i.e. in the form of licence agreements, available for a certain fee. This licence fee represents, in a fair, transparent and non-discriminatory manner, the contributions and investments by Concawe members in the development and implementation of the Risk Assessment Programme and subsequently the preparation of the joint parts of Registration Dossiers, and – where applicable – the cost of shared studies.
Such licences are also available to legal entities that have gone through an inquiry process in accordance with Art. 26 of the REACH Regulation or to legal entities that wish to use (to read across) data for a petroleum substance for their own substance. In both cases legal entities should establish a contact with Concawe by e-mail info@super-sief.eu.
Click here (MISSING LINK) to find the Inventory of Petroleum Substances for which Concawe or Concawe in collaboration with the Lower Olefins/Aromatics Consortium has prepared the common parts of the Registration Dossiers. The substances are grouped by category. The inventory also includes petroleum substances which are or may be exempt from registration under REACH. Please see the notes within the inventory document for details.
Importers should consult the "Shortlist and Reference Matrix of import CAS / EC numbers" (see Section 6).
All registrants will have to supplement their Registration Dossiers with their company specific data and Part A of the Chemical Safety Report. Concawe strongly recommends collecting registrant specific information for sections 0, 1 and 3 of IUCLID as early as possible in the registration process. This also applies to the analytical information required for sub-section 1.4 of IUCLID.
Guidance on this process will be made available to registrants who subscribe to the SIEF Communication Tool. Please contact Concawe at info@super-sief.eu if you are interested in a subscription.
Non-member companies that are Manufacturers according to the REACH definition will have to supplement the Chemicals Safety Reports with the risk assessments for their own manufacturing sites.
In addition, Exposure Scenarios for any uses not covered by the jointly submitted Chemical Safety Reports will have to be developed and included by the registrants in a supplementary Chemical Safety Report attached to their individual Registration Dossier.
Registration Dossiers
Concawe has prepared the joint parts of the Registration Dossiers for the following "categories of substances" (status 27 October 2010):
Low Boiling Point Naphthas (Gasolines)
Kerosines
Straight-run Gas Oils
Cracked Gas Oils
Vacuum Gas Oils, Hydrocracked Gas Oils& Distillate Fuels
Other Gas Oils
Heavy Fuel Oil Components
Unrefined / Acid Treated Oils
Other Lubricant Base Oils
Highly Refined Base Oils
Foots Oils
Paraffin and Hydrocarbon Waxes
Slack Wax
Petrolatum
Untreated Distillate Aromatic Extracts
Treated Distillate Aromatic Extracts
Residual Aromatic Extracts
Bitumen
In addition Concawe has prepared the joint parts of the Registration Dossier for the following stand-alone substances:
MK1 diesel fuel (EC number 931-250-7),
Oxidised bitumen (EC number 265-196-4)
Sulfur (EC number 231-722-6).
Grouping substances into categories allows read across of intrinsic (hazard) properties between the substances within a category.
This approach effectively means that information would be shared at category level rather than individual substance level. The various Substance Information Exchange Fora (SIEFs) for petroleum substances in the same category have therefore been combined in "Super-SIEFs". The 18 categories of petroleum substances are therefore being dealt with in 18 Super-SIEFs.
Because of the extensive overlap of gases from refinery operation and gases from steamcrackers and/or aromatics production units Concawe has agreed to collaborate with the Lower Olefins/Aromatics Consortium (LOA). The joint parts of the Registration Dossiers for petroleum gases will be prepared and offered to registrants by LOA.
Facilitation of Substance Information Exchange Fora (SIEFs)
Concawe has volunteered as the SIEF Formation Facilitator for all petroleum substances that require registration and for sulphur. This role has been recorded in the REACH-IT system of the ECHA. Concawe is therefore the only formal and official SIEF Formation Facilitator for petroleum substances and sulphur. Concawe intends to continue this role until the final registration deadline in 2018.
Concawe in its role as SIEF Formation Facilitator:
Has surveyed to establish whether pre-registrants intend to follow up their pre-registration(s) by registration(s), in which volume band and by which of the three deadlines (2010, 2013, 2018).
Has provided a SIEF communication tool.
Has collected relevant and reliable substance data from registrants and other data holders
Has initiated additional testing, i.e. testing that is required before registration
Has formed the "Super-SIEFs"
Has identified a Lead Registrant for each petroleum substance and sulphur (for most petroleum substances Concawe member companies have acted as Lead Registrants).
Concawe regards all pre-registrants who have not responded to communications from Concawe as the SIEF Formation Facilitator as "dormant", i.e. as having no intention to register. This policy is being supported by the European Chemical Agency. In order to avoid pre-registrants missing this important information the following text has been posted in REACH-IT for petroleum substances and sulphur:
"Concawe is acting as the SIEF Formation Facilitator (SFF). Please note that no other SFF has been recorded in REACH-IT.
Should you intend to register this substance and not have access to the Concawe SIEF Communication Tool yet, please send an e-mail to the Concawe e-mail address admin@super-sief.eu mentioning:
In the subject line: Request for link to the Web Ordering Tool
In the content section: Request receiving the link to your web ordering page clearly stating:

your Legal Entity Name as indicated in REACH IT
the UUID number of your Legal Entity in REACH-IT,
your e-mail contact,
the pre-registration number or inquiry (s),
the CAS number and EC numbers of the substance you intend to register,
the type of registration i.e. full substance or intermediate under strictly controlled conditions (REACH Arts. 17 & 18),
the tonnage band in tons per annum 1-10, 10-100, 100-1000 > 1000,
the registration deadline corresponding to the type of registration and tonnage band
This is to confirm that – in line with advice from ECHA – the SFF will regard as dormant all those pre-registrations for which no response has been received to any communication from Concawe. In other words, it is being assumed that these pre-registrants do not intend to follow up their pre-registration by a registration. These pre-registrants will therefore receive only limited information directly.
Should you have no intention of following up your pre-registration by a registration, we suggest that you deactivate your pre-registration. Your pre-registration can be re-activated later if needed."
In addition Concawe will from time to time contact by e-mail all SIEF participants whose pre-registrations have not been deactivated in ECHA's REACH-IT system.
The joint parts of Registration Dossiers will not only be made available to registrants of phase-in substances but also registrants of non-phase-in substances (i.e. new market entrants) who have gone through the inquiry process with ECHA in accordance with Article 26 of the REACH Regulation.
The sameness of petroleum substances
The standard approach to the sameness check for single or multi-constituent substances – comparison of analytical data and possibly classification – cannot be applied to UVCB petroleum substances.
Nevertheless, the question remains whether registrants have assigned the correct EC number to a particular refinery stream. Neither the other SIEF participants nor the SIEF Formation Facilitator has any means to challenge the assignment of a certain EC number to a refinery stream. The only guidance that is available is the CAS description for a substance (last process step, carbon number range, boiling range and, for some CAS Registry Numbers, additional criteria, e.g. the viscosity for lubricant base oils).
For imported substances, registrants may also have considered the so-called "Concawe Shortlist" .
It is therefore the sole responsibility of the registrant to ensure that he can demonstrate to his competent authorities – if and when requested to do so – that he has assigned the correct, or rather a suitable, EC number and hence submitted the appropriate Registration Dossier. In this context, pre-registrants are reminded to pay particular attention to the process step specified in the substance description in the EC inventory (see the Concawe Inventory or the ESIS website).
However, there are a few cases where it is accepted that substances sharing the same EC number are not the same. In these cases the SIEF has been split.
7.2 Refinery streams vs. their narrower cutsFor narrower cuts of refinery streams (e.g. hydrocarbon solvents) sharing the CAS Registry Number and/or EC number with their feedstocks, i.e. refinery streams, a joint communication with the Hydrocarbon Solvents Consortium (HCSC) has been sent to pre-registrants of substances in the following categories:
Low Boiling Point Naphthas (Gasolines)
Kerosines
Straight-run Gas Oils
Cracked Gas Oils
Vacuum Gas Oils, Hydrocracked Gas Oils& Distillate Fuels
Other Gas Oils
As has been mentioned above it is highly advisable for the registration under REACH to distinguish between substances that are not the same but have traditionally shared the same CAS Registry Number and EC Number.
For refinery streams and their narrower cuts the issue can be illustrated as follows: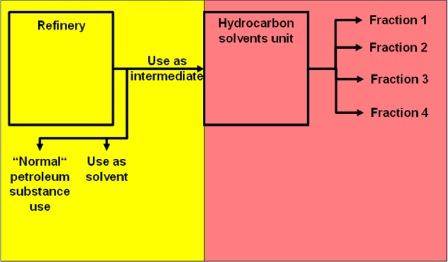 Fractions 1 to 4 of a refinery stream, e.g. a naphtha stream, have in the past shared the same descriptor (EC number, substance name, substance descriptions), although in reality the fractions are narrower cuts. These narrower cuts are mainly used as solvents. However, the difference between fractions 1 to 4 and the stream that is manufactured in a typical refinery process rests not in the use as a solvent; rather it is due to the fact that the feedstock of the fractions has undergone a transformation. However, the feedstock could also be – and in practice sometimes is – used as a solvent.
The Hydrocarbon Solvents Producers Association (HSPA) has therefore developed a naming convention for some fractions of certain refinery streams. Please see the HCSC page of the REACH Centrum website for the list which contains approximately 80 substances.
Concawe and HCSC have requested companies that have pre-registered one or more of the substances listed by HCSC, but have used the descriptor (EC number and or CAS Registry Number) of the feedstocks for those substances, to leave the SIEF(s) for petroleum substances (i.e. refinery streams) and join the SIEFs for those substances (colloquially referred to as "hydrocarbon solvents").
This approach has the following advantages:
Companies following the joint recommendation will get access to the joint parts of their Registration Dossiers that are tailored to their substances.
Hydrocarbon solvents manufacturers and importers of the substances will have a single and consistent naming and descriptor system applied by all market participants.
Petroleum substances manufacturers and importers can focus in the preparation of Registration Dossiers on the typical uses of petroleum products, i.e. refinery streams.
Pre-registrants of one or more of those substances under the EC number of their feedstocks should be aware that the joint parts of Registration Dossiers that Concawe has prepared for refinery streams will only in very exceptional cases address a use as a solvent. This applies strictly and only if the refinery stream as such, i.e. without further treatment like fractionation, is being used as a solvent.
In particular those registrants who will have to register the components of imported preparations may be uncertain whether their substances are the original refinery streams or narrower cuts, and if it is a narrower cut then which of the newly established substances to choose. In such cases Concawe suggests to contact HCSC through the REACH Centrum (info@reachcentrum.eu).
There is obviously the possibility that companies import both the refinery stream and the narrower cut. In that case both Concawe (through addresses info@super-sief.eu) and HCSC should be approached.
Import of petroleum substances into (and trading in) the European Economic Area (EEA)
The identification of petroleum substances imported into the EU is a concern. To facilitate this process, Concawe member companies have developed a "Shortlist" of Chemical Abstract Service Registry Numbers (CAS RNs) for petroleum substances that are commonly imported into the European Economic Area (EEA).
A total of 50 Shortlist CAS numbers have been identified covering all of the major classes of petroleum substances, e.g. straight run kerosines, light cat-cracked naphthas, heavy cat-cracked naphthas, white mineral oils, etc. Since the list has been developed only for commonly traded petroleum products, it is possible that an importer will not be able to assign a CAS RN from the Shortlist to all imports. It is the registrant's responsibility to ensure that any chosen Shortlist number is an appropriate descriptor for the cargo that is being imported.
The Shortlist (Excel File) provides further details and is composed as follows:
Tab marked "Shortlist"
Provides details of the 50 Shortlist CAS numbers nominated, together with their full official definitions.
Tab marked "Lookup list"
Gives a full listing of petroleum product CAS numbers, grouped by the main classes:

Column A: simple code which defines whether, for the particular CAS RN, a Shortlist CAS RN has been identified that might describe the cargo:

code "✓" if a Shortlist number has been identified;
code "X" if none could be identified;
code "S" if the particular CAS RN is a Shortlist number itself.

Columns B – G: CAS RNs and their official definitions.
Column H: proposal for Shortlist number (where one has been defined) that might be considered to describe the cargo.
Concawe emphasises that the Shortlist, and the attached references to other CAS numbers, must NOT be regarded as a recommendation. It is simply a list that may be helpful in assigning CAS RNs to imported cargoes of petroleum substances. As such it may be helpful to importers in their obligations to comply with the REACH Regulation.
Please note that it is not Concawe's intention to necessarily include all CAS RNs identified in the "Shortlist" or in the "Lookup" list in their work to develop risk assessments and REACH Registration Dossiers.
Additives in preparations (crude oil, gas condensates, fuels/blending streams) imported into the EEA
Regarding the treatment under REACH of oil-field chemicals and additives that may be present in crude oils, natural gas condensates, and fuel/blending streams that are imported into the European Economic Area, Concawe member companies will apply the principles explained in the following three Concawe papers:
Crude Oil and Natural Gas Condensates are exempted from the obligation to register in accordance with Article 2(7)(b) of REACH (Annex V). The first two papers discuss the nature (and likely concentrations) of any residual levels of oilfield chemicals and additives which are likely to be present in these substances, along with their status under REACH. The third paper addresses the presence of chemical constituents of additives in imported refinery streams and fuel products.
Recognising the practical difficulties of identifying these constituents in imported cargoes, a working group of Concawe member companies has prepared these three position papers in order to provide practicable guidance to member companies in addressing these challenges.
On 27 November 2008 Concawe provided the three above-mentioned papers to the ECHA for information. Please find here the response dated 18 December 2008 received by Concawe from Mr. G. Dancet, the Executive Director of ECHA.
List of Identified Uses and mapping against Generic Exposure Scenario titles and the Use Descriptor System
Concawe has mapped Identified Uses against Generic Exposure Scenario titles and the Use Descriptor System. The list can be found here.
Specific Consumer Exposure Determinants (SCEDs)
The documents can be found here.
Other relevant documentation
(This section will be supplemented as additional papers become available)
Contact