MOCRINIS II Workshop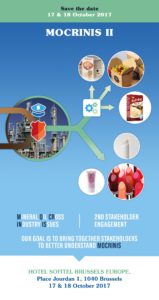 Our goal is to bring together stakeholders to better understand MOCRINIS, including:
Aspects of petroleum products manufacturing
Toxicity
Analytical methods
Risk assessment
As a follow-up to the MOCRINIS I workshop in 2013, MOCRINIS II will be an informative session to provide an overview of the main activities since then and shall review manufacturing, toxicity, analytical methods and risk assessment of mineral oils and waxes with a special focus on personal care products and food contact (packaging).
Invited stakeholders:
Manufacturers
Downstream users
Regulatory agencies
Institutes and academia
Industry associations
If you are interested in participating to this event please click here to register.
For more information about this workshop please check the draft programme.
The event is sponsored by Concawe & European Wax Federation
www.concawe.eu
www.wax.org