MOCRINIS II Workshop
Save the Date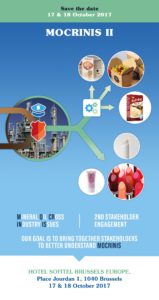 Our goal is to bring together stakeholders to better understand MOCRINIS, including:
Aspects of petroleum products manufacturing
Toxicity
Analytical methods
Risk assessment
As a follow-up to the MOCRINIS I workshop the MOCRINIS II workshop for stakeholders shall examine the current state of research, development, and events in this area. The speakers, mainly from the mineral oil sector, are designated to provide scientific, technical and practical contributions for a clear picture of this complex issue.
Invited stakeholders:
Manufacturers
Downstream users
Regulatory agencies
Institutes and academia
Industry associations
More information will be provided in the following weeks.
The event is sponsored by Concawe & European Wax Federation
www.concawe.eu
www.wax.org