15 Jun 2021 - 17 Jun 2021
Integer Vehicle Emissions Live – Virtual Conference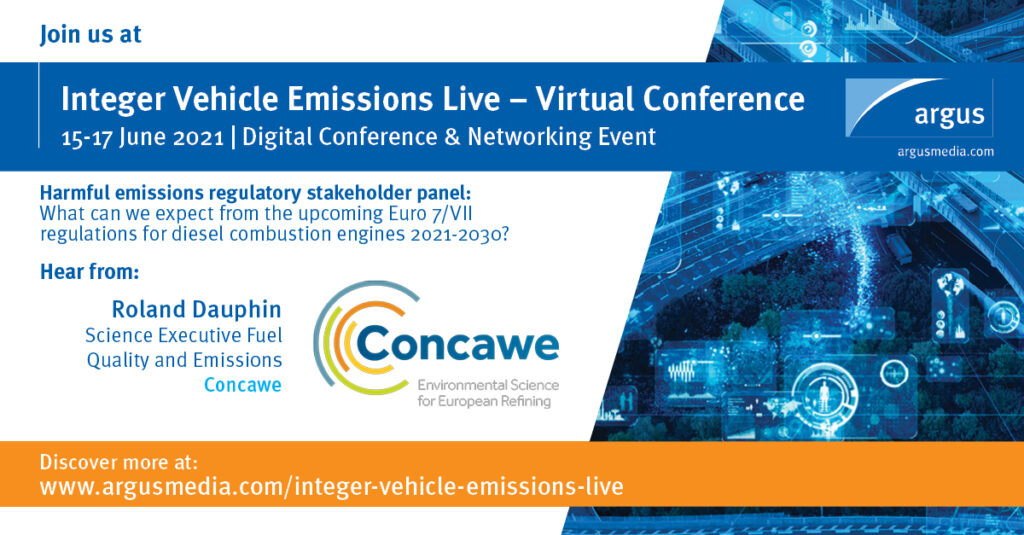 Keep on top of industry developments and hear from vehicle emissions experts at this new virtual conference, exhibition and networking event. Integer Vehicle Emissions Live will explore key opportunities to enhance the diesel engine, meet new standards and keep diesel on the map.
Brought to you by Argus Media, the conference will span 3 time zones (CEST, EDT, IST) and offer both global and regional specific information that explores the future role of sustainable engines. It will also help you to identify supply demand trends for AdBlue/DEF, infrastructure and dispensing options at the pump.
Roland Dauphin, Science Executive Fuel Quality and Emissions, Concawe joins a harmful emissions regulatory stakeholder panel on Wednesday 16 June from 09:30 to 10:30 CEST. The session will address what we can expect from the upcoming Euro 7/VII regulations for diesel combustion engines 2021-2030 and includes insights from The International Council on Clean Transportation (ICCT) and think tank Transport & Environment.
You will also hear from diesel leaders investing in and developing strategies across the market, including; Stellantis, Volvo, AGCO, Shell, BP, Neste.
The event offers you a global regulatory update from the US Environmental Protection Agency, Department of Transport UK and National Highway Authority of India.
You can also join vehicle and engine manufacturers already registered to attend, including; Daimler, Toyota, Ford, Tata Motors, AGCO, Cummins, Kubota Engine America Corporation, CNH Industrial, Motive Zero, Greaves Cotton Ltd, John Deere and more.
This is a unique opportunity to meet with regulatory bodies, OEMs and AdBlue/DEF market participants at this new interactive conference experience.
You can find the agenda of the event here.
Contact anita.agyeman@argusmedia.com for further information.