Background
What is REACH?
REACH is the European Regulation (EC) No 1907/2006, on the Registration, Evaluation, Authorisation and Restriction of Chemicals.
The REACH Regulation was adopted to improve the protection of human health and the environment from the risks that can be posed by chemicals, while enhancing the competitiveness of the European Union (EU) chemicals industry. It also promotes alternative methods for the hazard assessment of substances in order to reduce the number of tests on animals.
REACH entered into force in 2007, and shifted the responsibility from public authorities to industry with regards to assessing and managing the risks posed by chemicals and providing appropriate safety information for their users.
How is REACH evaluation progressing?
Initial registrations for substances with higher volumes, manufactured or imported in the EU were made in time to meet three volume-based deadlines (2010, 2013 and 2018).
As the Registration phase is now complete, the Evaluation phase of REACH will gather momentum. This phase is likely to carry on through the 2020s.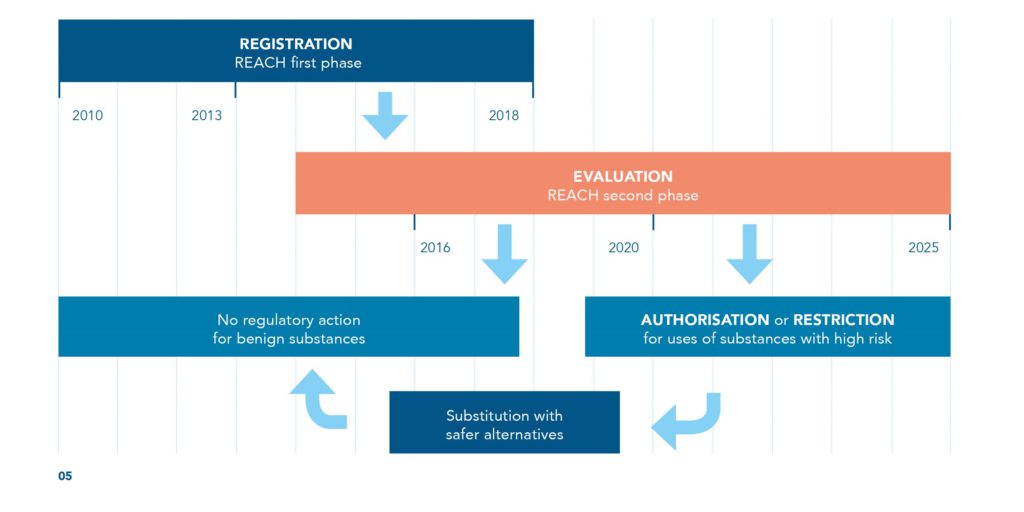 The submitted registration dossiers may be subjected to compliance checks by European Chemicals Agency (ECHA).
• Compliance checks are to ensure that the information required is sufficient for the regulators to properly evaluate the substance and its uses. Should the regulators identify that there are gaps in the information, registrants are given notice and a deadline to generate the missing information and update their dossiers.
• ECHA also evaluates any testing proposals included in the registration dossiers to confirm the proposed studies will effectively generate sufficient data for the assessment of the substance, but also to check that the studies will not result in unnecessary testing, especially on animals.
Once ECHA have completed compliance checks, local competent authorities (Member State) may select substances for substance evaluation.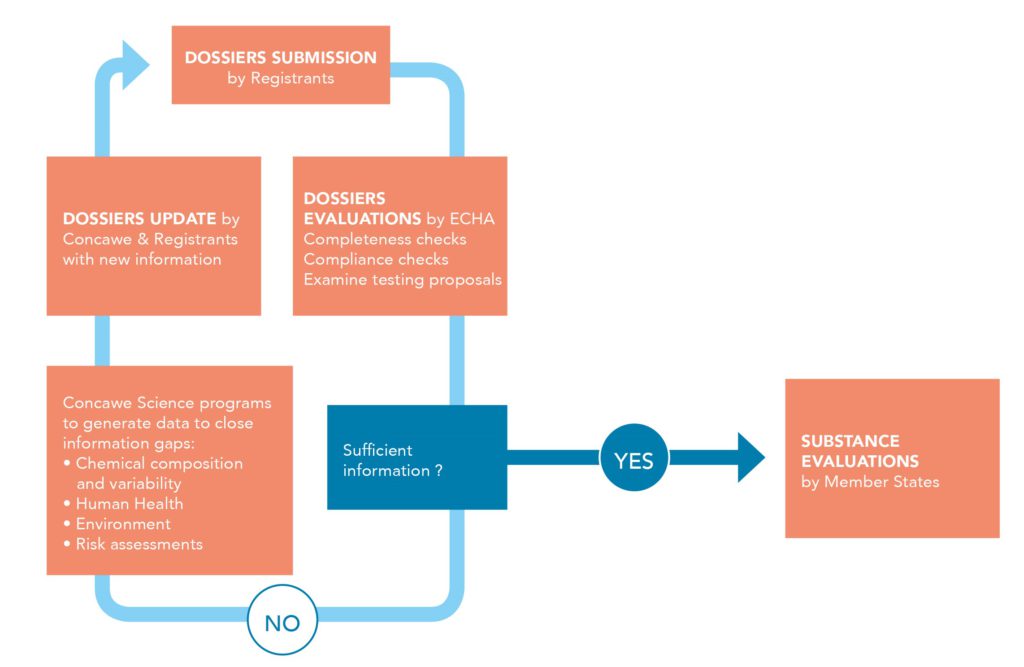 Motivation
Petroleum substances are a prototypical example of UVCBs (Unknown or Variable composition, Complex reaction products and Biological materials), which present challenges for science-informed toxicity regulatory decision making. Although UVCBs are identified on global chemical inventories with unique Chemical Abstract Services (CAS) numbers and names, evaluating their toxicity remains challenging due to the chemical complexity and multi-constituent nature with largely unknown and variable composition. Therefore, regulators and industry have a common interest to define a process for (petroleum) UVCBs to ensure that there is no underestimation of hazards while minimizing or eliminating the use of animals in toxicology testing.
All petroleum products were registered in the European Union for the 2010 submission deadline under REACH (≥1000 tons registration band), comprising more than 8000 individual registrations. A number of these submissions were accompanied by testing proposals to fill data gaps in specific toxicity endpoints. To minimize the need for testing in vertebrate animals, the majority of data gaps were addressed using read-across to similar substances for which the required data were available.
Read-across of petroleum substances within the REACH framework is typically done by grouping the individual substances into product categories with similar manufacturing processes and phys/chem- properties (including refining history and boiling point/carbon number ranges/hydrocarbon class). However, category read-across approaches for (petroleum) UVCBs that are based solely on such broad similarity parameters are not always be considered sufficient.
The Cat-App project initiated and funded by Concawe tackles this specific challenge by investigating practical strategies for grouping and read-across approaches for UVCBs with the aim of providing a cost-effective integrative approach to solving the similarity challenges of UVCBs using biological activity instead of a phys./chem. approach. The project integrates innovations in (i) in vitro testing, (ii) high-throughput genomics and (iii) integrative data analyses and visualisation into a workflow for biologically based read-across assessment of UVCBs in regulatory programmes.